The Hirschorn Museum and Sculpture Garden was built to house the Hirschorn art collection, thumb which was acquired by the Smithsonian in 1965. The site picked for the Hirschorn had previously held the large red brick Medical Museum which was demolished to make room for the new museum. It was designed by Gordon Bunshaft of Skidmore, treatment Owings, and Merril and opened in 1974. Its design was unique, a concrete cylinder on four large piers with a large void in the middle featuring a large fountain and courtyard. The building itself was criticized from the beginning as being out of place on the National Mall. It has alternately been described as a bunker, gas tank, spaceship, and the world's largest doughnut. While the Hirschorn certainly houses a respectable collection of modern and contemporary art and is a fine example of Brutalist architecture, two recent projects hope to bring new life to the often reviled building.
Doug Aitken's latest work, Song 1 used the exterior of building as a screen by projecting on all three-hundred sixty degrees of its outer walls. The film features dozens of people singing versions of the Harry Warren and Al Dubin's famous standard "I Only Have Eyes for You" including new versions commissioned for the project by Beck and Devendra Banhart. Like Aitken's previous work Sleepwalkers, Song 1 makes prominent use of the architecture. However, architecture isn't integral to his storytelling but using a building as screen for such films serves to humanizes the building or reconsider it in a different light.
More clips and stills are available on the Song 1 project website: http://www.dougaitkensong1.com/
Bunshaft's building is also getting a temporary upgrade by undergoing a seasonal expansion via an inflatable enclosure designed by Diller Schifido + Renfro. The project will fill the donut hole void with a temporary structure turning the courtyard into an enclosed area that can be programmed for various uses like conferences and concerts.
The Hirschorn's architecture is sometimes constraining, its circular structure and low (by today's standards) ceilings necessitates creative programming. By filling the void and using the outside walls as projection screens, the Hirschorn opens itself to new possibilities.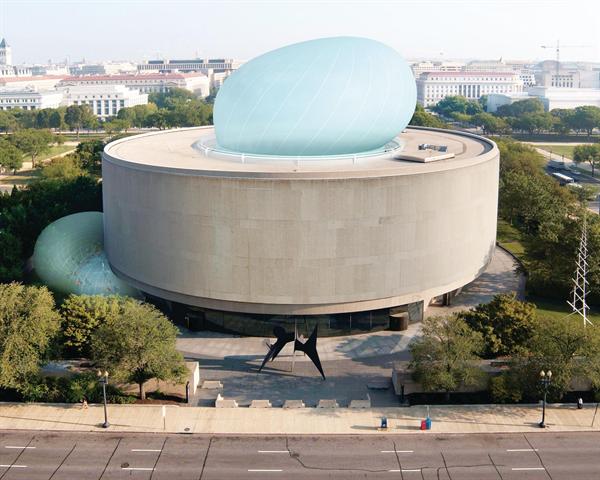 ---